Visit Tweestar Now!
Tweestar is one of the best content sharing site which offers convenience to the creators as they can use it to share videos, photos and even gives opportunity to have one on one chat for a price.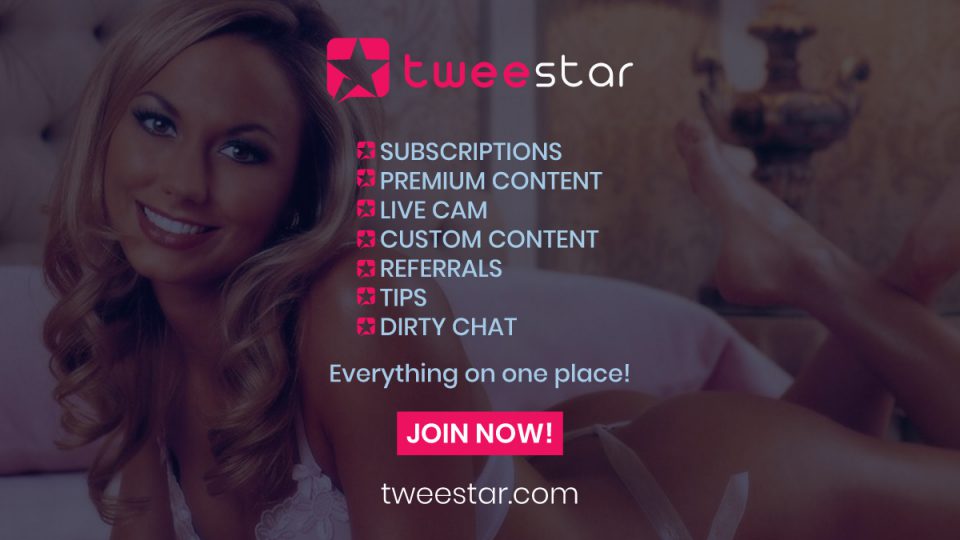 Tweestar : What is it?
After searching through a lot of adult social media platforms and top sexting apps,If You failed trying to find the best privacy, something with a fun adult social network that helps working from home models. Looking for a truly nudity friendly, adult sexting site, without all the fake profiles, a real adult social media platform! Then Tweestar Could be your perfect find.
Tweestar is a custom built fan-model site which provides content creators, adult performers and influencers to upload their pictures, videos, albums or custom content for sell them as subscription or premium content. You can also use chat for connecting or just for sexting. On explore page you will find all new models posts and posts of your followings. You can filter it as you wish. First posts are shown from models who are most active on website. If you want something else, here is also Live Cam option, private 1-1 or public.
Tweestar's Features
Become a member today and discover what you've been missing from all the other social media, dating sites and dating apps. Tweestar is the sexy side of social media. Tweestar will provide you the list of benefits as follows:
Live Webcam
Social Media content creator platform Tweestar is giving more opportunity to the models that they can start live webcam once their profile gets verified. Model can even opt for private or public one to one conversation that fairly depends upon his/her choice. Of course, some features have to be purchased. For that, this site uses a token system, with different features using a different amount of tokens.
Subscriptions
Fans have the opportunity that they can follow you and like your content. Your fans will be notified when you upload new photos or videos on Tweestar. Fans can even see the new content in the notifications or in the provided fee section. This might increase the reach of your content and your fans will get to know about your new photo or video within a second it gets uploaded on Tweestar.
Content
The mixture of performers is key to its success, as much as the amount of online performers. There are four options for selling content on Tweestar.  Your favorite fan would get access to your photos, videos, custom content and galleries.  You can purchase the content or you can opt for paid subscription.
Referral program
By using the special link in your menu you can connect a large number of users to your account but you will be able to get that only after registration. If you refer a creator on Tweestar then you will be able to earn 5% commission for one year.
Tweestar's Pros
Huge number of Active Users
Private messaging
Thousands of sexy adult cams to watch
Huge Collection of Models
Tip models or enter private shows.
Tweestar's Cons
Not enough filtering options for the live cam shows
Our Take on Tweestar.com
Tweestar is a Social Media Site with live cam feature that really is making a great impression. It really made a big one on me. This site ticks all the boxes that you would want it to tick considering it is a adult social media site as well as live web cam with lots of browsing options, some excellent features and, most importantly, a lot of online performers for you to choose from at any given time.  There are also many pricing options to fit your budge. In short, You should give Tweestar a try.