Forming a strong bond is crucial for everyone, and thankfully we live in a day and age where we can do so MUCH from the comfort of our homes. The peak of every relationship comes as soon as sex is introduced, but that comes with its own set of complications. People are different, and everyone has their own sex drive, which is why webcam sites are becoming so popular. Sometimes it's best to kick back, open up a webcam site, and spend some enticing time with a hot performer.
The internet's full of camming websites, and I'm happy to introduce you to PDCams.com. Its selection of 20000+ models guarantees full satisfaction upon viewing. I was curious as to how a website could have so many stunning models while maintaining a free membership model, and after researching, the answer was obvious. This site is the creation of ThePornDude, who has already made a name for himself in the industry for the quality and quantity of his projects.
A wide array of perfectly organized models
Landing on the front page of PDCams.com will bless your eyes with hundreds of thumbnails with the juiciest cam vixens. The simple and sleek design allows for easy navigation that's clutter-free and responsive. There's nothing worse than getting bombarded with popups, banners, and other unnecessary content. The number of websites that mess up the basic layout of the main page should look at what the Dude is doing and take notes. Everything is out in the open and visible, making it virtually impossible not to find your genre of choice.
Good luck getting to the bottom of the page, as they've added an infinity scroll, so you never run out of cammers to watch. It's the simple things that make a huge difference, like how the site has a well-organized section based on the gender of the streamer or the location from which they're streaming. For a deeper dive into a specific body type that you're after, the drop-down menu has you covered, from hair color and length to body proportions.
Well needed quality of life changes
If I had a penny for every time I left a channel on accident, I'd be filthy rich. No need to worry about those pesky misclicks from now on, as PDCams.com has a history tab helping you to easily track your way back to that special someone. However, this option comes only for those who register, and oh boy, is that done with ease! Within a mere minute, my account was ready to be tweaked, thanks to the system that requires only an email address to register. That's right! No more do you have to waste your time setting up a profile like you're applying to work at NASA. Instead, just enter your email and wait for the code to arrive in your inbox.
Nobody wants to enter a model's room without knowing their viewer count and a recent screenshot of their stream. Thankfully, PDCams.com refreshes all of the thumbnails regularly, letting the members know if the model is actively seducing or taking a break. These small changes show the sheer dedication and desire to keep the audience engaged and pleased with their work. I genuinely felt cared for and welcomed when coming across these small details, but this is just the tip of the iceberg since the cam chicks weren't even mentioned yet!
Turning your deepest desires into reality
You'll never feel alone or neglected with the plethora of PDCams.com models that are streaming for your enjoyment. Despite there being so many live sex cams, it's astonishing to see that they're curated in a way that only the hottest ones are available. Looks are subjective, but it's undeniable that every stream here's packed to the brim with a perfect combination of beauty and lust.
It makes sense, though! PDCams.com is a wildly diligent aggregate that cooperates with StripChat, BongaCams, Chaturbate, XLove, and AmateurTV. These platforms boast the best collection of cam shows and the most talented performers. Each website has its own category that they're known for, so combining them under one big virtual roof is a match made in heaven.
Performers have specific fetishes that they cater to, and they never fail their kinky tasks. Diversity is PDCams.com's biggest strength, so expect to see tons of streams with kinks you may not have heard of. It goes without saying that there are rooms with intimate settings that focus on romance and one on one conversations. While some enjoy romantic endeavors, others are pervy to the core, always needing a touch of fetish to spice things up.
Exhibitionism is frowned upon and banned on many sites, but these free adult webcams aren't afraid to show their beauty out in the open. Those who don't care for subtle seduction should dive inside the pervy world of BDSM! Aside from the basic whips, blindfolds, and handcuffs, expect to see some intricate machines, suits, and swings where couples, or even singles, do their naughty business on.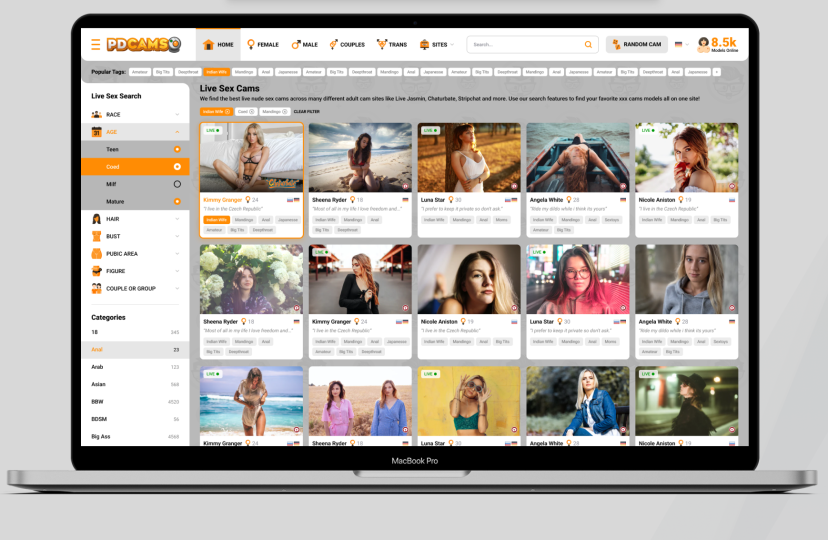 Content that everybody can enjoy
PDCams.com is a kinkshame-free zone, and as long as you're polite with the models, you'll have the chance to fully immerse yourself in their shows. Straight, gay and transgender communities are welcomed with open arms. There's no better place to find a person that's willing to do whatever it takes to fulfill all of your requests. Chat in private shows and tip the beauties to show your appreciation for the work that they've put in to satisfy you, and you'll have their eternal gratitude.
Dip your toes into the beauty that is PDcams.com and start following your favorite streamers. Filter the content that pops up on your screen and personalize it to your liking with the intuitive tools that are available. All of that hard work and effort that the Dude has spent creating the site has paid off. Check out PDCams.com now and make sure to become a member to easily track the specific streams that fulfill your needs! Keep that door locked and tissues nearby cause you'll want to spend the majority of your time on this free site!